It has been the most hectic Mother's Day; I'm too exhausted to think so I'm posting some photos from the weekend.
The environmental degradation--also known as the building of the riding arena--goes on.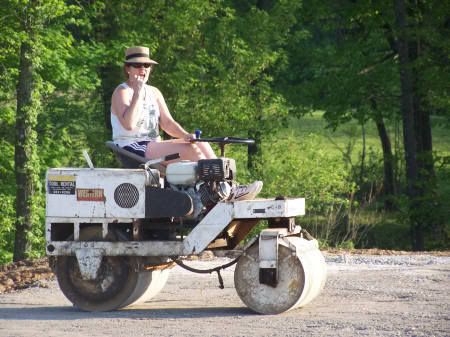 Me on the compacter, working on my tan, kinda.
Luke's track is also still going on. His best time this season: two miles in 10:59. Ten minutes, fifty-nine seconds. To put this in perspective, I've been working out on the treadmill for nigh on two winters and I'm still trying to do
one
mile in less than eleven minutes.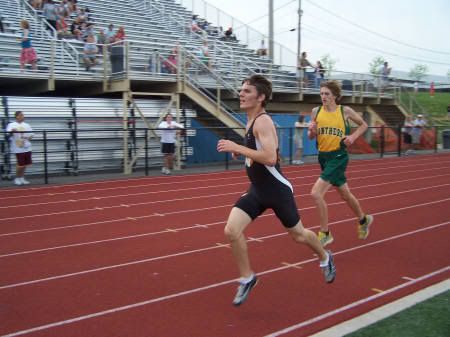 Mother's Day lunch was at my house today; a small affair attended by my mom and step-dad and my two brothers in addition to the four of us who live here. After lunch, I cut my brother Michael's hair and shaved him all up. We're trying to get him presentable so he can post photos on the Disabled Passions website. After years of trying to date un-disabled women who like the fact that he gets a monthly paycheck from Social Security, he says he is ready to date a "nice, normal, disabled woman who won't use me."
I wish I had taken "before" photos because we turned a mountain man into this: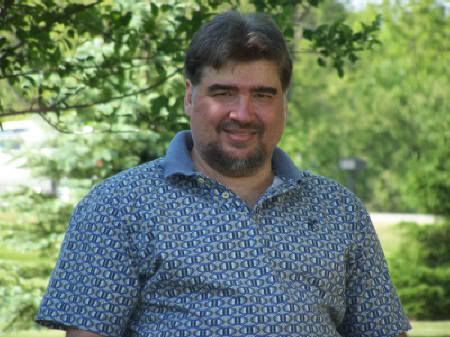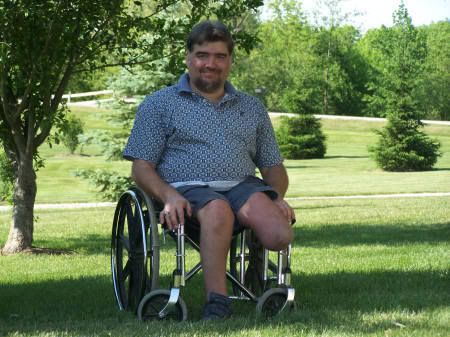 Any one looking for a guy with a heart of gold?
The purpose of this next photo is to make my sister pea-green with envy. She's in Germany with her new man but I'm here on Mother's Day with the world's best momma: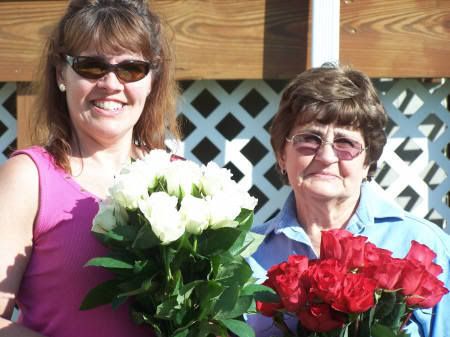 Look at our beautiful roses. Two dozen each! From Tim!
Well, kinda.
Actually, they're from my neighbor (the yard-anal guy) who has more dollars than sense. Turns out he thought he ordered two dozen roses for his wife but mistakenly ordered twenty-four dozen. He told his wife the delivery company made a mistake. Anyway, he had lots of roses to get rid of and since he adores me (a post for another day) he asked Tim if he wanted some roses to give as mother's day gifts. My wonderful husband remembered to grab up an extra bunch for my mom while he was at it.
Better than the roses were the laugh we got at my neighbor's expense. Trust me, I'll never let him forget the year he got me roses for Mother's Day.