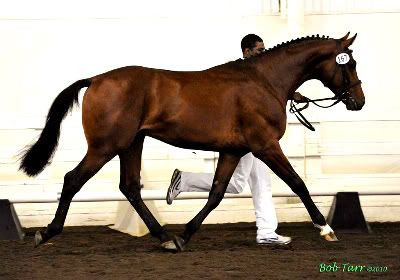 (Photo by Bob Tarr Photography)
Darby went to his first breed show last week. He was the Grand Champion Colt/Gelding and the Reserve Champion Young Horse.
Most important, he behaved himself admirably in the show ring and effortlessly exhibited his lovely trot. Strangers kept coming up to me and asking about him and complimenting his beauty and conformation.
It is so cool to finally have my dream horse after struggling all those years with an off-the-track Thoroughbred. It's as if the horse-gods held a meeting at which they decided to quit screwing with me and said, "Yeah, let's send her an easy horse this time."