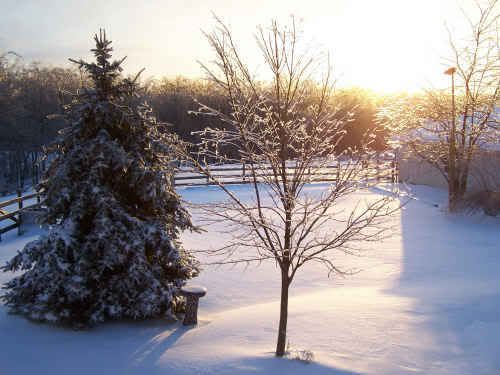 Looking across our backyard
I woke up this morning knowing what I was going to cook today. All the stars were aligned for a perfect day of piddling. Another snow day - the kids don't need to be driven anywhere; the house is reasonably clean, can't get to the barn to ride, and it's Valentines Day which calls for special eats.
Last week, as he does before every minor holiday, Tim asked me, "Do we do Valentines Day?"
"Not anymore," I said.
I had been in Wal-Mart the day before and had looked at cards. Jeez, what a bunch of sap. After 18 years of marriage, all the flowery cards "to my wonderful husband" made me want to gag; but the joking cards seemed to say, I don't like you enough to get you a sappy card." So we don't do Valentines day anymore.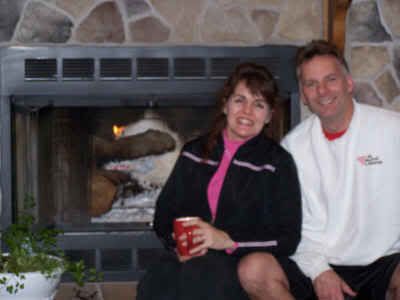 Tim and I on Valentine's Day
Well, we don't do cards. But I knew that today I was going to fix my sweetie his favorite treat -
Cheesecake Cupcakes
out of the
Nestle Recipe Collection
book. I also knew that I would be cooking meatloaf and baked mac-and-cheese for a special dinner for all my sweeties. There are very few foods that all four of us relish - meatloaf is one of them.
First, I was fixing breakfast; well, brunch. Last night, before I fell asleep, I picked up one of the books next to the bed, a favorite when it's late and I don't want to read for long -
The Taste of Country Cooking,
by Edna Lewis. This is a book about farm cooking - about people who raised their chickens and milked their cows and grew their vegetables. It is a book that makes me hungry for an era as well as for food.
Anyway, I came across a recipe for, get this,
Ham in Heavy Cream Sauce,
and, amazingly enough, I had both of those things in my refrigerator, left over from a family reunion held here last Sunday. Here is what the wonderful Ms. Lewis says about this concoction:
"Ham in heavy cream sauce was the most delicious combination one could ever hope to taste in leftovers."
The instructions were ridiculously easy: slice up the good pieces left on the ham (I took care to remove all the fat). Ms. Lewis put the cream in the pan first, then the ham, but I fried the ham in a skillet for a few minutes, removed from heat and added cream (what I had was heavy whipping cream) to almost cover the ham. Ms. Lewis says, "The ham and cream mixture was then set on the back of the stove to heat without even reaching a simmer." I had to keep removing the skillet from the burner to keep it from simmering. Cream can't be boiled. While this was warming, I fried scrambled eggs and made jelly toast. Logan ate with me. He declared brunch "amazing." From now on, when I buy a ham (at Christmas) I'm buying cream. This is decadent but it'll be all right once or twice a year.
Later in the day, I made
Cheesecake Cupcakes.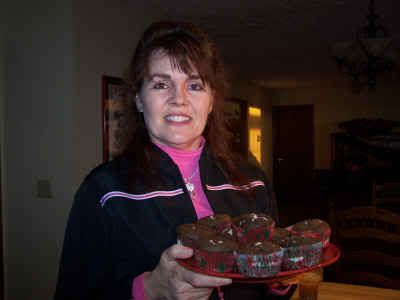 Filling:
8 oz. cream cheese (I use low-fat Neufchatel cheese.)
1/4 cup sugar
1 egg (I save four grams of fat by using the white only)
1/2 cup semi-sweet chocolate chips
Cake:
1/2 cup semi-sweet chocolate chips
1 and 1/2 cup all-purpose flour (if you have cake flour on hand, use half all purpose flour and half cake flour for a lighter cake.)
1 t. baking soda
dash salt
1/2 cup sugar
5 T. butter or 1/4 cup vegetable oil (I like them better with butter)
1 egg (I use the white only)
1 t. vanilla (please, pure vanilla extract only. It's worth the cost.)
1 cup water
Filling: In medium bowl, combine cream cheese, sugar, and egg. Beat until creamy. Stir in 1/2 cup chocolate chips. Set aside.
Cake: In large glass bowl, melt together the chocolate chips and the butter; stir until smooth. Add sugar, egg, and vanilla. (Also the vegetable oil if using it instead of butter.) Beat all until smooth. Mix in 1/2 cup flour until smooth; then 1/2 cup water until smooth, then 1/2 cup more of flour, 1/2 cup more of water. End with last 1/2 cup of flour to which you have added the baking soda and dash of salt. Stir until almost smooth but don't overmix or cupcakes will become tough. In paper-lined cupcake pan (this will make about 14 cupcakes), place enough batter to fill about 1/3 full. Add large dollop of the cream cheese mixture over the batter, then spoon remaining batter over the filling. Put water in any empty places in the pan (this will add steam to the over that will make a nice rise and texture). Place in cool oven, turn on to 350 degrees, bake for 20 minutes.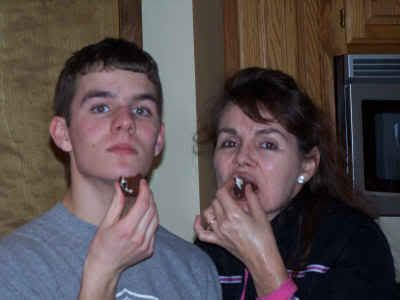 Lukey and I dig in.
I am being called to watch a movie.
The Two Towers
and a fire in the fireplace - happy Valentine's Day to me.