Cynthia and Tim play Scrabble
Defying convention, my friend Cynthia left sunny Florida to come to Ohio last weekend and dip her toes into winter.
I picked her up at the Cincinnati airport on a sunny but cold Friday evening. We got stuck in rush hour traffic but were so busy catching up that we hardly noticed. It was dinner time when we arrived at my house; I had spaghetti sauce in the crock pot - all we had to do was whip up a salad (Cynthia's job and it sure turned out good - she raved and raved about it), boil noodles and stick the prepackaged garlic bread in the oven. Very easy and so fun to be in the kitchen, hands busy, laughing and talking a mile a minute. That's the way to cook and I highly recommend it.
Tim had built a fire so as soon as dinner was finished we sat in front of it, still talking away. Oh, we did the house tour of course, and maybe some Scrabble was played, but mostly we talked.
Tradition dictates that when Cynthia is visiting, there will be chocolate chip cookie dough in the refrigerator. Question: Can one become immune to salmonella? I have been eating raw dough and batter with eggs since, well, since
ever
, and, knock on wood, I've never been sick from it. Same for Cynthia. My MO is: eat a bite of dough, put a spoonful on the pan, repeat. To go with our cookies we had hot chocolate, the recipe off the box of Hershey's cocoa. (Always Hershey's because that's the kind I grew up with; to me it tastes
right
.)
Late Saturday morning we packed up sandwiches and the trailer with Buckles and Speckles and headed down to the bike path to go trail riding. Funny to note that, when planning to go riding, my thought was, Yeah, Cynthia can ride Speckles, he's safe. Not, "she can ride my 19 year old horse," but, "she can ride my three year old horse." Speckles is very good and steady. Very honest. Buckles is a Thoroughbred and that's all I have to say about that.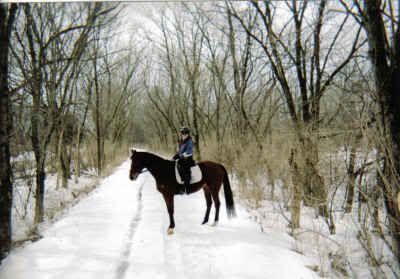 Mr. Buckles and me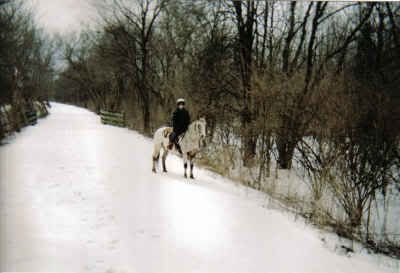 Cynthia and Mr. Speckles
I couldn't believe how snow and ice-covered the trail was. And I couldn't believe how good the horses were. They stood tied to the trailer and munched hay while we groomed and saddled them. We rode out an hour, stood down by the river to eat our lunch while the horses snuffled around under the snow for a bite of grass. And then we rode back. Two hours was plenty for Speckles. He was tired. We were cold. The seat heaters felt wonderful.
Back at the house, we piddled around for a little while, showered, then went to dinner at the restaurant where we had met, as waitresses, twenty years ago. Even though it had begun raining and sleeting, the place was packed. We had a fifty minute wait which flew by because we still had plenty to talk about. We had a good "shrimp trio" dinner, then drove home, slowly, in a sleet/snow blizzard. For dessert, we baked the rest of the chocolate chip cookies, had more hot chocolate, more fire in the fireplace, more Scrabble. As far as I'm concerned, a perfect evening.
Sunday we headed back to the airport, but in time to stop at my favorite horse store, my favorite western decorating store (Bugaboo Moosetracks),and Barnes and Nobles where I actually spent some money. On Cynthia's recommendation I bought a dog book by Jon Katz,
A Dog Year
, and a novel by Jim Fergis,
One Thousand White Women
. I haven't written in my blog this week because I've been busy reading. I enjoyed
A Dog Year
; Cynthia recommended it because she saw on my bookshelves that I read a lot of animal books, especially animal behavior. I'll be buying other books by Jon Katz.
Then I read
One Thousand White Women
and it is the best fiction I've read in a really long time. Here's the premise: Chief Little Wolf proposes to President Grant that the way for the Indians to become assimilated into the white culture is for Grant to send one thousand white women to live with and marry into the Cheyenne tribe. Pretending publicly to be shocked at this proposal, behind closed doors Grant and his advisors decide that this might not be such a bad idea; after all, there are plenty of women in jails and insane asylums they can send (in return for a thousand horses). The book is the journal of one of the women, May Dodd. I loved her; I loved the book.
By the time Cynthia and I did all this shopping and ate lunch, we were running late for the airport. Outside the Delta terminal, I rushed up to the curb, parked half in the street, threw Cynthia and her luggage out, hugged her, and got back in before causing a traffic jam. It was a perfect weekend.
The Recipes
Spaghetti Sauce
I totally cheat on my spaghetti sauce. I buy frozen meatballs, a jar of Prego or Ragu sauce, a can of diced tomatoes. I put all in the crock pot hours before dinner along with four or five cloves of garlic and extra oregano. The slow cooking makes it extra good. It is so easy and ready when you are.
Chocolate Chip Cookies
I have a bone to pick with the recipe off the back of the chocolate chip bag - am I the only one who thinks the cookies are greasy? Too much unnecessary butter! Butter is a wonderful thing but we never need unnecessary butter.
Here is my slightly modified version. I keep these ingredients constantly in stock in case of company. Everyone likes chocolate chip cookies.
3/4 cup softened unsalted butter (save 40 grams of fat from original recipe)
1 cup brown sugar
1/2 cup white sugar
1 teaspoon (overflowing) pure vanilla extract
1 egg
1 egg white (saves 4 grams of fat; plus, cookies have better texture)
2 1/4 cups all-purpose flour (I always use unbleached)
1 teaspoon baking soda
dash of salt, if you must (I rarely put salt in sweet baked goods; I don't like the taste of it, especially in the raw dough or batter.)
Most of a 12-ounce bag of semi-sweet chocolate chips (I save about 1/4 of them for later chocolate emergencies. The whole package is a little too much chocolate for the amount of dough.)
Mix together the butter and sugars until light and fluffy, stir in the vanilla, add in the egg and the egg white, mix well. Add the flour and the baking soda, mix just well enough to incorporate the flour. Fold in the chocolate chips. This can be refrigerated and baked just before serving. (Fresh baked cookies are the best. Plus, for company, they make your house smell warm and comforting.)
The secret to baking cookies is: Cold pan, hot
oven.
Turn the oven on to 350 degrees. Spray oil lightly on your cookie sheet (one of the air bake pans is wonderful. The two layers of pan keep the cookies from over-baking on the bottom.) Drop by spoonfuls onto the pan. Now, put the pan in the freezer, if you have room, or the refrigerator if you must. Leave it there until the light on the stove goes off, telling you it has reached 350 degrees. Put the pan in the oven and set the temperature for 6 minutes. When it goes off, turn the pan so cookies to the back are now to the front, and set the timer for another 6 minutes. When the timer goes off, look to see if the cookies have begun to brown on top. This is when they should be removed. If they haven't begun to brown, they will be raw in the middle; if they over-brown, they will turn hard when they cool. The time differs depending on how big or small the cookies are. Small cookies cook faster.
All I need to say about
Hot Chocolate
is: follow the recipe on the Hershey's can except use less cocoa (about half of what the recipe calls for); use real vanilla extract, fill the cup only 2/3 full so there is plenty of room for the marshmallows. Really, isn't hot chocolate just an excuse to eat a bunch of slightly melted mini-marshmallows?
Invite over a friend who loves conversation, build a fire, enjoy.