Yesterday was Tim's 46th birthday.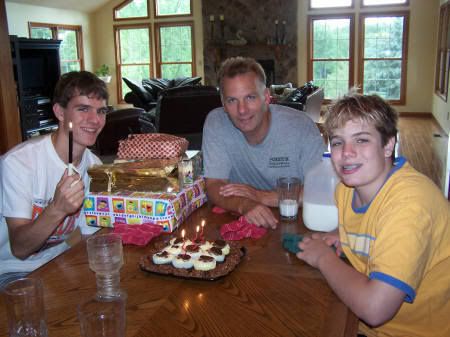 He's looking pretty good for a guy on the downhill slide to 50.
We had a good day, but now have our noses to the grindstone as we get ready for Queenie's graduation party on Saturday. Last night, I dragged myself to bed and I must have looked pathetic because Logan followed me upstairs to give me a hug. He said, "I'm going to do better about doing things the first time you tell me." And today he did. He and Luke were wonderful help, now that they are out of school (YAY!)
Oh, last Saturday Logan auditioned for the local children's theatre. He found out yesterday he was cast as Wilbur in Charlotte's Web. Rehearsals start next week, along with basketball camp for Logan and summer gym for Lukey. This is their only week off and they have been troupers about helping me get ready for company and the party. I love boys, especially helpful ones.
Speaking of helpful, in above birthday photo, Tim's 'cake' is two of his favorite things: I made the cream cheese cupcakes; Luke made the no-bake cookies (because he couldn't think of a thing to get the man who has everything).
I will be able to think again when this week is over. If I haven't forgot how.