His registered name is Doctor Buckles but he answers to Mr. B. He is a nineteen-year-old Thoroughbred ex-racehorse; I bought him when he was twelve. At that time, he still thought he was a race horse. I have been riding him four or five times a week for the past six and a half years. We are finally figuring things out.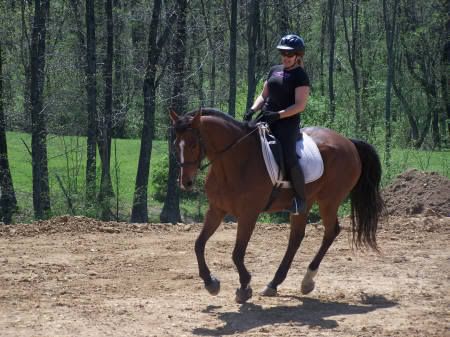 Me and The Amazing Mr. B.
Funny thing, every time my riding got better my horse got better, too. And now this old guy (and old gal) are able to canter like this.
For those of you unfamiliar with horses/riding, let me point out what's good here. See how far his hind legs are under his body? See how carrying himself with his hind legs under him allows him to be up and free in his shoulders? See how his head is flexed (nose kind of tucked in, not out or up and pulling), this means he is right in my hands and we are very quietly communicating through the reins. Note also the "listening" position of his ears.
Last but not least, see how upright my position is? If you took Buckles out from underneath me, I would land standing on my feet. It took me forever to be able to get and keep this position in motion, but without me in this balanced, controlled position, Buckles would not be able to do the neat things he is doing.
We have come a long way in the six years we've been together. He used to lean on the reins so hard my shoulders ached. The correction for a leaning horse is to put your legs on and try to push the hind legs under his body. Back then, if I put my legs on, Buckles became electrified with the thought that I was asking him to RACE! And we would be off, pounding over uneven ground with him leaning on the bit for all he was worth.
One day, at our old house, I was riding Buckles through several inches of snow next to the road. I thought, well, if I'm going to fall off, I might as well fall off in snow. So I asked for the canter. About this time our neighbor, also a horseman, drove up behind us and began keeping pace with us. He later reported to the other horsemen in the community that he clocked us at 40 mph. I was mildly famous in that neighborhood because of this.
Through it all, I could see Buckles had great natural ability to do
dressage
movements. He did them not under saddle, but when he was free in the pasture. The flying lead changes, the piaffe, the passage were all in there; I just had to become a good enough rider to get them out.
We're getting there.
Look for me and my buddy in the 2012 Olympics.