Strange things happen to a man when a tractor comes into his life. It begins innocently enough. A simple thought: Hey, let's cover up the place where the foundation shows by building a flower bed along the side of the house.
A call to our landscaping friend causes a load of rocks to be dropped off. Building commences. Our great nephew, Cory, is visiting and he thinks riding with Tim on the tractor hauling real live rocks is as good as life gets.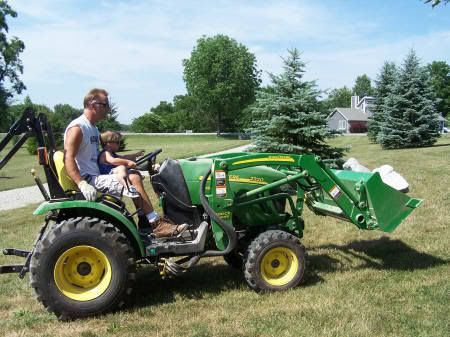 A wall takes shape.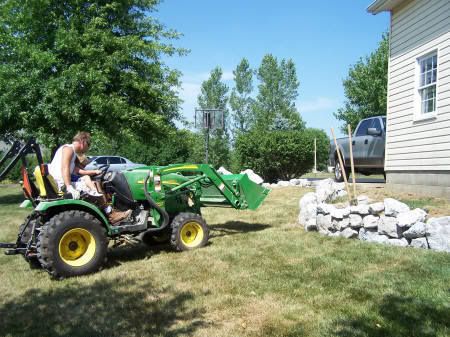 Logan is a good worker and a good guy to little kids.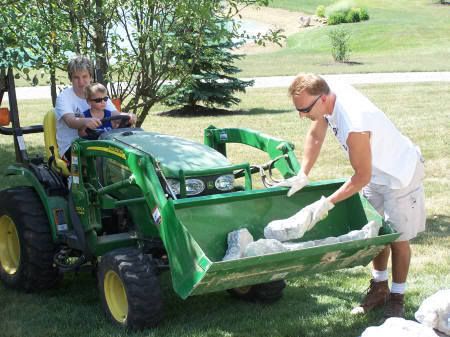 You have a tractor, therefore the work is not unbearable; so even while this wall is being built your eye begins to wander. You think, we could finally tear out those ugly bushes in front and do something about that perpetual bare spot by the red maple. Besides, there are always enough rocks left over from one wall to get you started on the next wall; before you use the last rock you place another call to your landscaper friend and say, hey, when you get over this way, and several days later there are more rocks and you finish one area but have enough rocks left over to make you think you can do another area and just before you use the last rock you make another call...
The next thing you know you've used your tractor to pull out those ugly bushes at the front of the house and you've found the coolest ever stepping stones for a front walkway...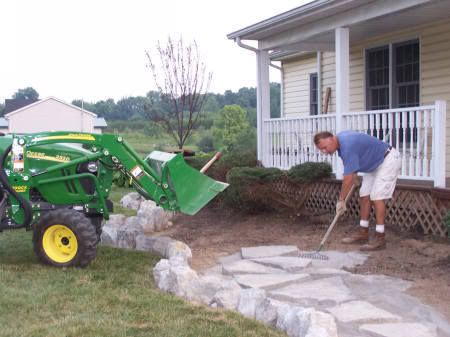 And your tractor hauls in the sand which makes the stepping stones lay perfectly.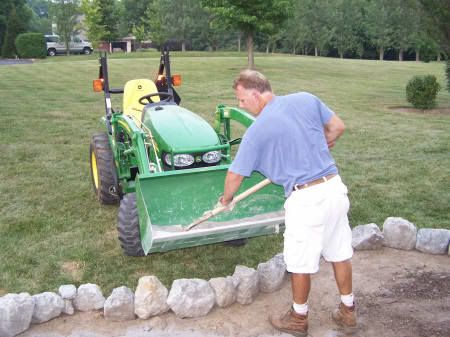 Miracle of miracles, you exhaust the manure pile filling up the new beds. Then piles of mulch appear in the driveway and a week's worth of evenings are spent in the hauling of mulch...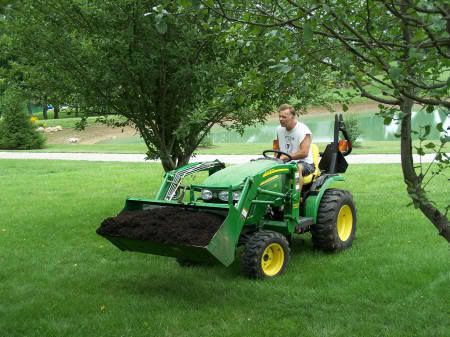 ...and the spreading of mulch with Trixie for quiet and pleasant company.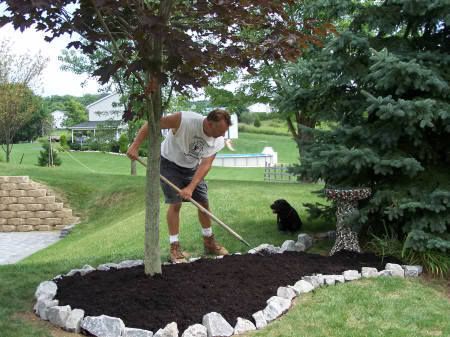 Bushes and flowers get planted one bed at a time. Things grow and bloom; the flit and buzz and flutter of bees, hummingbirds and butterflies are hearty accolades for this thing you have wrought.
The cat lolls in splendor and thinks:
All this for me / As well it should be.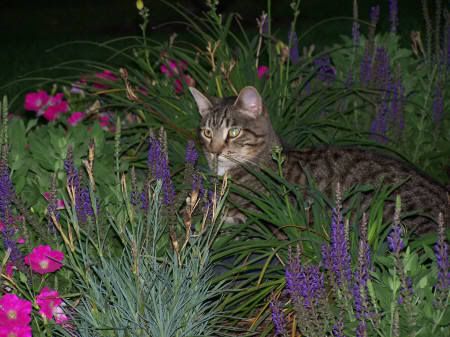 You hose down your sweaty tractor and tuck it into the barn for a rest. Yourself gets propped up on the deck from whence you can survey your work, drink your ice water, and make plans for next summer.
I smile a wifely smile to myself and think, I should have bought you a tractor a long time ago.